Wastewater Plant Information
J. L. Schwartz South Strand Regional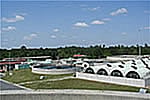 The J.L. Schwartz South Strand Regional WastewaterTreatment Plant (Schwartz Plant) is located in the Burgess Community and serves from the Coastal Carolina University /Carolina Forest / Socastee area along Highways 501 and 544 eastward to the beachfront areas of Surfside Beach / Garden City and southward to the Georgetown County Line including the Garden City Point.
This plant is permitted to treat up to 19.35 million gallons of wastewater per day and discharge treated effluent to either the Intracoastal Waterway / Waccamaw River near the Georgetown County line, onto the land at Grand Strand Water & Sewer Authority's 1,600 acre Tip Top Tree Farm, onto three privately owned golf courses, or onto the land at one of our three turf farm sites. The Schwartz Plant employs several treatment processes to reach the required levels of discharge needed to protect the area's water resources.
Part of the treated bio-solids byproducts of the treatment processes are pumped to the nearby 200 acre High Tech Turf Farm and land applied to Bermuda turf. The remaining biological solids that are generated during the treatment process are treated to Class A standards through composting to provide the most beneficial reusable product. The composted material is utilized as crop fertilizer at several of the SCDHEC approved Authority farms.
Schwartz WTTP Expansion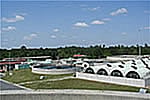 A recently completed $17 million phased expansion of the J. Lambert Schwartz Wastewater Treatment Facility to 19.35 mgd improves Grand Strand Water and Sewer Authority's ability to serve customers on the southern end of the Grand Strand.
The facility presently treats 12.5 million gallons of wastewater daily. Among the communities served by the Schwartz plant are Burgess, East Conway, the former Air Force Base properties, Garden City, Socastee, Surfside, and the Waccamaw Pottery area.
The cost was built into the existing growth formula for the Authority, and no new rate hikes will be necessary.

Back to wastewater plants